---
By Ayana ContrerasIAugust 16, 2022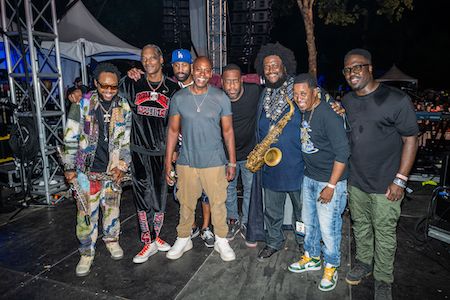 The drive to Blue Note Jazz Fest Napa the last weekend in July, through winding roads and sunny hills, was an experience in itself. Asphalt driveways are lined with rows of manicured green vines stretching out to the horizon, the occasional sign of roadside strawberries, wine tastings, puppies or ancient olive trees, and the silence (phone reception was spotty and many Bay Area radio stations decayed into static). The setting, the Charles Krug Winery in St. Helena, California, felt like an oasis, shaded by what appeared to be ancient walnut trees. The wine, as one can imagine, was plentiful. And the multi-generational lineup on all three stages, which included Chaka Khan, Corrine Bailey Rae, Madlib, Alex Isley and the all-star collective Dinner Party with Terrace Martin and Kamasi Washington, testified to jazz's lasting influence on black popular music. (probably the thesis behind festival curator Robert Glasper black radio series of albums) and what jazz will become in the future.
Chef Adjuah ​​has previously performed under the stage name Christian Scott aTunde Adjuah. He shared with his Sunday afternoon audience that his new name reflects his coronation as leader of the Xodokan Nation, one of New Orleans' black tribes. His set was intertwined with powerful liturgical voices, blues, crackling percussion and history. Wearing a Def Leppard t-shirt, he played his famous horn, as well as a new bowed instrument of his own creation called the Adjuah ​​bow, an electric instrument derived from the traditional kora and n'goni of 'West Africa. Adjuah ​​said he aims "to seed new instruments for the 21st century… [so that] kids where I'm from New Orleans" can play music related to their heritage. After then launching into a sparkling rendition of "West Of The West" from his album music stretch, he added that the first jazz record was recorded in 1917 and that we are "moving into the second century" of this music, this moment is primed for a reassessment of what music is and what it is to become. Perhaps in response to the cliched statement that "jazz is dead" (which is often attributed to the 1959 film The cry of jazz), Adjuah ​​replied, "We think this music is for life."
Most of the festival-goers I spoke with were between the ages of 25 and 55, didn't necessarily identify as die-hard jazz fans, and came from afar: a man from North Carolina, a couple from St. Augustine, two women from New York York, a young woman, like me, from Chicago. The same could be said for artists. Chef Adjuah ​​hails from New Orleans, fusion combo Butcher Brown from Richmond, Va., and Emily King, who performed Sunday afternoon on Black Radio's main stage, lives in New York. After his concert, I told him it seemed like the festival, part of the venerable Blue Note New York's "western expansion," had taken inspiration from Newport as a sort of destination experience. A seasoned touring performer who released her debut album, East Side History, in 2007, she shared that it was her first time in Napa, so it was also kind of a destination for her. Her set, featuring stripped-down versions of her signature songs like "Look At Me Now" and "Georgia On My Mind," felt like a full-loop moment in the sense that, although she's known for creating songs worthy of swoon, distinctly soulful pop/R&B pearls (mostly with partner Jeremy Most, who accompanied her at the festival), her performance was quasi-acoustic, a jazz-flavored trio with electric guitar, pedals and keyboards laying bare her jazz roots.
When we spoke in February 2019, King told me that music deeply shaped his early musical identity. "I grew up listening to Duke Ellington, Lambert, Hendricks and Ross, Ella Fitzgerald, Miles Davis," she said. "As a child, I listened to this stuff because my parents sang it. My parents had a singing group called Kim and Marion, and they sang when my brother and I were young, and now they have their own separate creative entities. My dad is a hard-core jazz musician, and my mom, she does classical music and she's a composer. Later that year, I caught King playing with his dad at a showcase event. by Quincy Jones at The Shed in Manhattan.
The Blue Note Jazz Fest Napa was primarily organized by Robert Glasper, who holds an annual month-long residency each October at The Note in New York City. A good number of artists who attend his genre-blending residency, including Grammy winners Ledisi and Isaiah Sharkey, have also taken to the stage in Napa. Other artists were featured on Glasper's last album, Black Radio III (rapper D Smoke, for example, featured on Glasper's recent single "Shine"), but the guideline was that most had notably collaborated with the Glaspers before.
The resulting curatorial flavor was de facto black radio live, mixed with clear nods to the classic 2005 film Block Party by Dave Chappelle. Chappelle, in fact, hosted the evening sets on the main stage.
Trumpeter Keyon Harrold, who performed Saturday afternoon on the Blue Note Napa Stage, told me Sunday night, "This place is…magical. It was his first time in Napa (and a winery).
"Having people from all walks of life come and experience the artists, the high level of curation that's here, it's a beautiful thing," Harrold continued. "Thank you to Robert Glasper and his whole team for putting this thing together, and to the Blue Note and everyone who came up with this baby. It's like the perfect number of people, the perfect time. Everyone world has its own name.
While the headliners (including Chaka Khan, Maxwell, Mos Def and Talib Kweli, Thundercat and Flying Lotus) are recognized outside of jazz circles, many festival-goers have approached Harrold happy to discover some of the most underground artists or more downright jazz-oriented. . "Just seeing this and engaging with people is a beautiful thing," he exclaimed. "And it's the first big festival like this after COVID, it's super cool."
From an artist's perspective, Harrold added that he hopes the impact of the event will go far beyond the festival weekend. "Behind the scenes is a melting pot of all generations. You have James Poyser, who we listened to as a producer, as an artist with D'Angelo. Lauryn Hill, Common. My first professional gig was working with Common and James Poyser, an inspiration for Like water for chocolate. You have DJ Jazzy Jeff walking around, then you have Robert Glasper, but then you have Elena Pinderhughes, who is super young, but super amazing. Then you have Christian Scott and so many amazing people walking around, Derek Hines, Chris "Daddy" Dave. Dead Prez walking in the back, and Nas and so many people, and that melting pot of culture is something special. I can only imagine what comes next, the collaborations that come out of the behind-the-scenes discussions. comics
---
Meghan Stabile was the founder of Revive Music Group.

Jon Batiste, Critics' Choice for Jazz Artist and Beyond Artist of the Year as well as Beyond Album of the Year.

Batiste performing his hit "Freedom" at this year's Grammy Awards.

Jones sat down for a live interview last December in Chicago at the Midwest Clinic.

The truth documentary Hargrove features the late trumpet player in various locations with different bands.